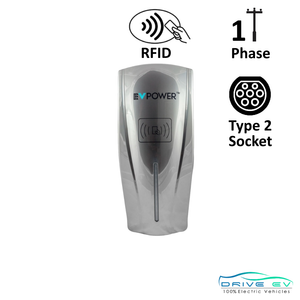 EV Power DLB WALL CHARGER 32A 1P (LOAD BAL)
The BCP AC Wall Charger with Dynamic Load Balancing (DLB) for home use. Features a Type 2 connector and is compatible with all cars, using the correct charge cable (Type 2 to Type 2 or Type 2 to Type 1). RFID card access required to start a charge. Please note this is not a smart unit, and has no app or wifi or bluetooth.
Adjustable output from 6 Amp - 32 Amp, the BCP Wall Charger can be either wall-mounted or pile mounted.
Dynamic Load Balancing is technology which will can maintain the dynamic balance of the total household current and ensure the safety of electricity to avoid home overload. The total household current will not be overloaded due to charging. For example if you set your car to charge at 32Amp but your household appliances are using 45 Amp, then your car will only charge at 15 Amp (given 63 Amp is the usual supply by your power provider). Your electrician will set this up for you during the installation.
Please ensure you own a Type 2 to Type 2 or Type 2 to Type 1 EV Charging lead (sold separately). 
7kg, 380mm H x 169mm W x 201/159 mm D
SPECIFICATIONS
Built-in over-voltage and under-voltage protection (>264V or <187V)
Over- current protection, over temperature protection, imperfect earth detection
CP abnormal signal protection and type A + DC 6mA for Europe standard.
Operating temperature range: -25

 

℃

 

~ +55

 

℃

IP65 (socket IP55) protection rate - provide shelter recommended
operating humidity range 0-95% for indoor and outdoor.
Temperature sensor built-in for fire protection.
Leakage test function (to ensure the normal operation of leakage protection)
Automatic reset after troubleshooting. That means when a charger stops working when an anomaly is detected, the charger will periodically self- check whether the anomaly is eliminated. The charger will start to work automatically after the anomaly has been eliminated
The ramp-down stop current charging mode protects the EV batteries.
Rated charging current can be set according to different home load conditions.
Lightning protection to ensure personal safety.
Standard: EN IEC 61851-1:2019 IEC 61851-1:2017
Certificate: CE/CB/UKCA/SAA
5 year warranty
Always ask a qualified electrician to check that the wiring of your home before charging any EV/PHEV using your domestic circuits