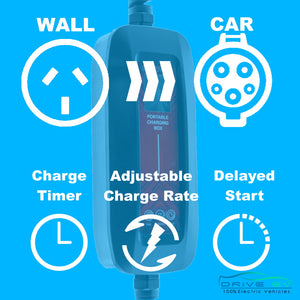 Type 1 J-1772 to standard 10A plug EVSE. 

Suitable for all Type 1 Vehicles like the Nissan LEAF, e-NV200, Mitsubishi Outlander PHEV, Smart ED, Mitsubishi IMiev, Kia Soul EV, JDM BMW i3, Prius PHEV and any Japanese vehicle fitter with the J1772 plug.
Tough and safe, the EV Power Cable 8 Amp Type 1 Charging Cable has Type B RCD built-in. This TUV approved device will detect a fault of more than 6mA of DC current – protection you need against shock and fire hazards during EV charging. See www.worksafe.govt.nz for more information. This charging cable is designed to work with all Type 1 Electric Vehicles. Nissan Leaf, Mitsubishi Outlander PHEV, Toyota Prius PHV and nearly all vehicles from Japan.
You can delay the start charging time up to nine hours to take advantage of lower overnight electricity rates. Features full LCD display with charging time display, kW received, voltage rate, Amp rate and kW delivered.
A Supplier Declaration of Conformity (SDoC) – description of the article and a statement that it complies with the required safety standard is available on request
SAFETY
Temperature sensor at plug pins - Detection and auto turn off function
Overcurrent protection - Auto turn off
Overvoltage protection - Auto turn off
Auto charge recovery - Auto reset when supply interrupted, 3 min snooze then charging continues
Lightning protection
Electric leakage protection
Earth leakage protection
Short circuit protection
Insulated terminal design
TUV certified and fully compliant with IEC 62752
NZ compliant and tested

DURABILITY
Protection class - IP65
10,000 Charging Cycles
Durable connections - cable strain relief feature

SPECIFICATIONS
Working Current: 8 Amp, switchable between 8A, and 6A.
Working Voltage: 230V +- 10% AC
Charging Plug: Type 1 Plug  Meets IEC 62196-2 (Mennekes, Type 2) EU European standard
Power Plug: New Zealand / Australia Plug
Rated Power: 1.8 kW
Cable length: 8.2 Meters total
Operating Temperatures: -30° To +50°
SAEJ1772 Type 1 plug

SUPPORT
Warranty: 2 Year
Free return to base service period of 3 years